Cookies may be one of my favorite things ever.
They are my all time favorite treat.
I sometimes consider myself a cookie connoisseur. I love them crispy, chewy or soft. Cookies with chocolate are the best.
Here is a recipe for some of my family's favorite cookies.
I found them on pinterest last year via another blog. They are *so* good & easy to make (you make the entire batch in a pot!).
Marry Me Cookies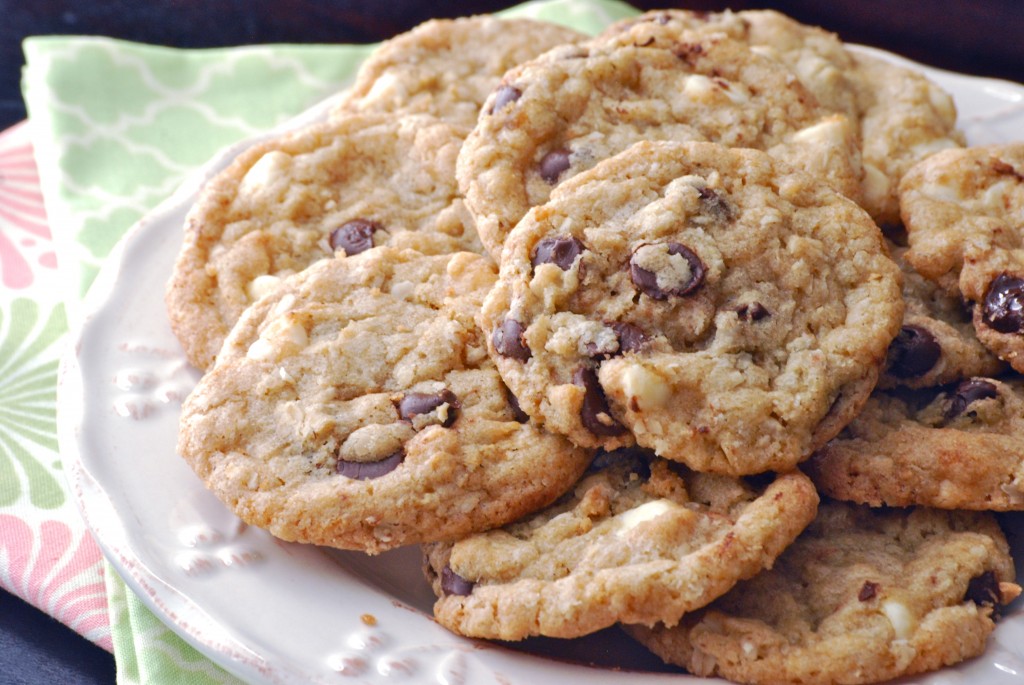 Marry Me Cookies
Source: Melissa Stadler,
The Cooking Channel
http://www.macaroniandcheesecake.com/2012/07/marry-me-cookies.html
Yield: 4 dozen cookies when using a small cookie scoop
Ingredients:
1 cup butter (2 sticks)
1 1/4 cups dark brown sugar (light works too)
1/2 cup granulated sugar
1 egg plus 1 egg yolk
1 tsp. vanilla
2 cups all purpose flour
1 cup quick cooking oats
1/2 tsp. baking soda
1/2 tsp. salt (I use a combo of table salt AND course salt)
1/4 tsp. ground cinnamon
1 cup white chocolate chips
1 cup semi-sweet chocolate chips
Add in the flour, oats, baking soda, salt & cinnamon. Stir together until fully incorporated. (Alternatively, you can whisk all these dry ingredients together in a medium sized bowl and then add it to the wet mixture, this is what I did).
Add in the white chocolate chips & chocolate chips and stir to distribute evenly. (This will seem like too many chips, but trust me it isn't). Place dough in refrigerator for 30 minutes.
Preheat oven to 325 degrees. Cover baking sheet with parchment.
Remove dough from refrigerator and scoop into balls using a small cookie scoop. Place on prepared baking sheet approximately 2 inches apart. Bake for 12 to 14 minutes until lightly golden and tops look set.
Transfer to cooling rack to cool completely. Repeat for remaining dough. Keep dough in fridge in between batches. Store baked cookies in an airtight container.